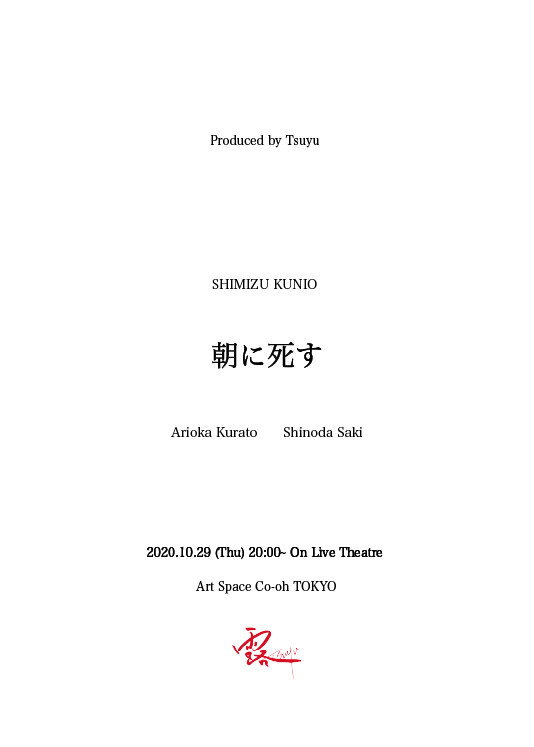 10/29(木)公演のアーカイブ配信です。

無観客配信公演 朗読劇
朝に死す
作:清水邦夫
演出:有岡蔵人

・・・・・夜、ほのかな光の中
若い男が若い女を背負って現れる
男は何者かに追われ
女の左足には白い布が巻きつけられている
コンクリートの壁、片隅で出会ったふたりは
奇妙な会話をはじめ、そして朝を待つ

出演
有岡蔵人 真愛

写真/映像/音楽/配信
会田愛由子
衣装:切幡光児
協力:木冬社、山口将也、平山琢也
Special Thanks:古賀豊

露-tsuyu- https://www.tsuyu2019.com/
有岡蔵人 twitter@kkur_aaar

※お知らせ
出演を予定しておりました篠田早紀は一身上の都合によりやむなく降板することとなりました。
出演を楽しみにされていたお客様にはご迷惑、ご心配おかけすることを重ねてお詫び申し上げます。

代役は真愛が務め、出演者変更に伴い上演形態を朗読劇に変更し予定通り10月29日(木)に生配信を実施致します。

なお、変更に伴う払い戻しは行いませんのでご了承下さい。
キャスト、スタッフ一同より良い作品づくりに励みますので、変わらぬご支援、応援をお願い致します。

2020年10月18日 露 -tsuyu-
【Important Notes】
・This performance will be performed on the Internet.
・Email will be sent when you purchase a ticket. Please check the e-mail with the browsing instructions.
・Internet communication costs for browsing will be borne by the customer.
・We recommend using stable Internet environment (Wi-Fi) to view the stream.
・We will do our best to ensure clear, uninterrupted quality in the stream, but please understand that due to the characteristics of distribution, there is a possibility that unexpected suspension or disturbance may occur.
・Stream time may vary slightly.
・The stream URL can be viewed only with the purchased ZAIKO ticket - it cannot be accessible by anyone but the ticket purchaser.
・If you enter the stream during the middle of its broadcast, you can only watch it from that point - you cannot rewind during distribution. However, you play it in entirety during the video archive period.
・Please refresh the stream page 5 minutes before the show starts.
・CVS Payment will end 5 days before the event sales end date.
share
Pop-out