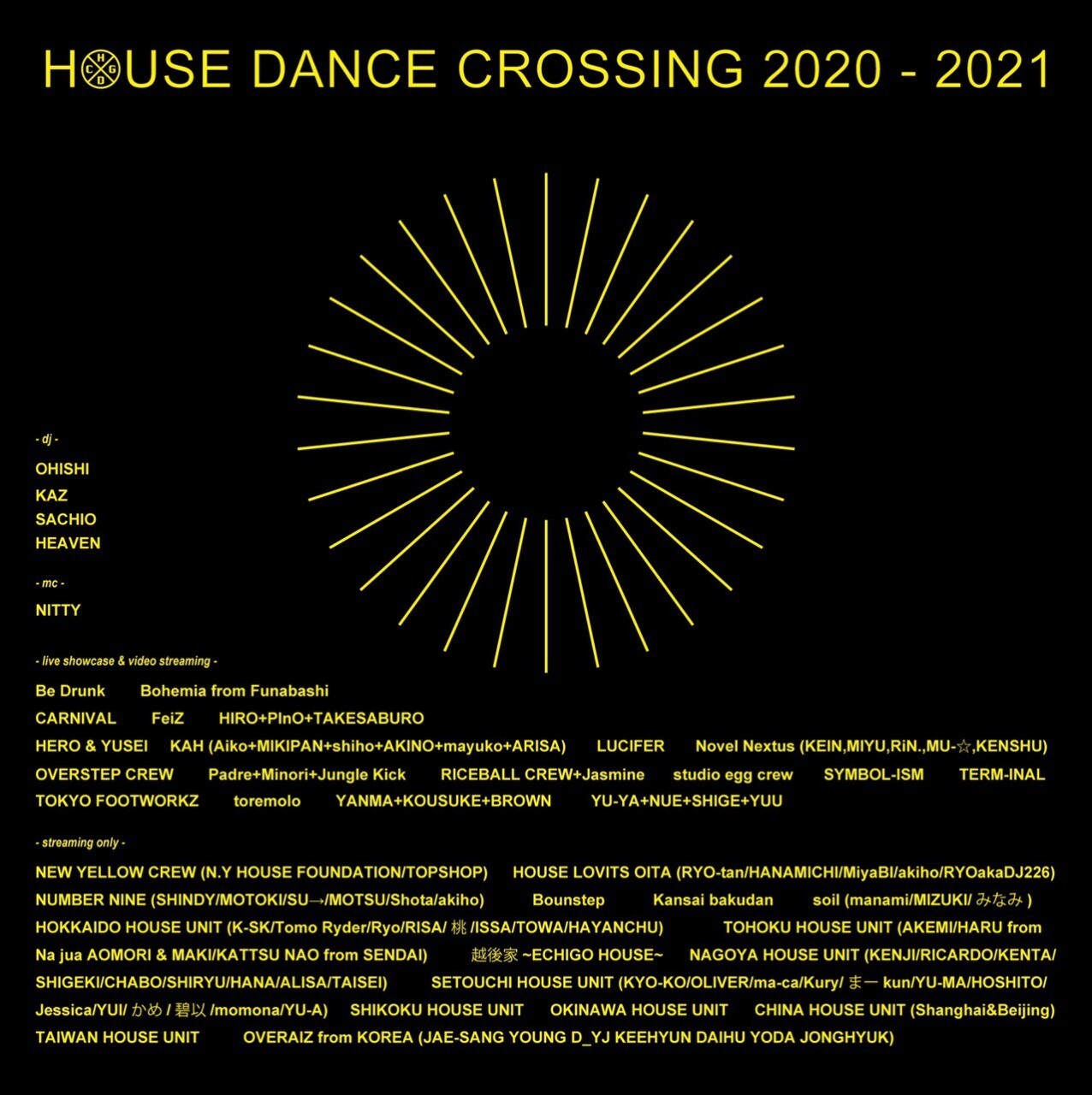 HOUSE DANCE CROSSING 2020 - 2021
2021.3.28(sun) にclubcitta'kawasakiにて行われるHDCのショーケースと、本来出演する予定だった各地のチーム、ユニットのショーケース全ての模様を収録。コロナウィルスの状況により実現できなかったHDC2020が、配信によって実現します。是非ご覧ください。
Includes the HDC showcase to be held at club citta'kawasaki on 2021.3.28 (sun) and all the showcases of the teams and units that were originally scheduled to appear. HDC2020, which could not be realized due to the situation of coronavirus, will be realized by streaming. pleasew take a look.

-live showcase & video streaming-
Be Drunk
Bohemia from Funabashi
CARNIVAL
FeiZ
HIRO+PInO+TAKESABURO
HERO & YUSEI
KAH (Aiko+MIKIPAN+shiho+AKINO+mayuko+ARISA)
LUCIFER
Novel Nextus (KEIN,MIYU,RiN.,MU-☆,KENSHU)
OVERSTEP CREW
Padre+Minori+Jungle Kick
RICEBALL CREW+Jasmine
studio egg crew
SYMBOL-ISM  
TERM-INAL
TOKYO FOOTWORKZ
toremolo
YANMA+KOUSUKE+BROWN
YU-YA+NUE+SHIGE+YUU


-streaming only-
NEW YELLOW CREW (N.Y HOUSE FOUNDATION/TOPSHOP)
HOUSE LOVITS OITA (RYO-tan/HANAMICHI/MiyaBI/akiho/RYOakaDJ226)
NUMBER NINE (SHINDY/MOTOKI/SU→/MOTSU/Shota/akiho)
Bounstep
Kansai bakudan
soil (manami/MIZUKI/みなみ)
HOKKAIDO HOUSE UNIT (K-SK/Tomo Ryder/Ryo/RISA/桃/ISSA/TOWA/HAYANCHU)
TOHOKU HOUSE UNIT (AKEMI/HARU from Na jua AOMORI & MAKI/KATTSU NAO from SENDAI)
越後家~ECHIGO HOUSE~
NAGOYA HOUSE UNIT (KENJI/RICARDO/KENTA/SHIGEKI/CHABO/SHIRYU/HANA/ALISA/TAISEI)
SETOUCHI HOUSE UNIT (KYO-KO/OLIVER/ma-ca/Kury/まーkun/YU-MA/HOSHITO/Jessica/YUI/かめ/碧以/momona/YU-A)
SHIKOKU HOUSE UNIT
OKINAWA HOUSE UNIT
CHINA HOUSE UNIT (Shanghai&Beijing)
TAIWAN HOUSE UNIT
OVERAIZ from KOREA (JAE-SANG YOUNG D_YJ KEEHYUN DAIHU YODA JONGHYUK)

-mc-
NITTY

-dj-
OHISHI
KAZ
SACHIO
HEAVEN
【Important Notes】
・This performance will be performed on the Internet.
・Email will be sent when you purchase a ticket. Please check the e-mail with the browsing instructions.
・Internet communication costs for browsing will be borne by the customer.
・We recommend using stable Internet environment (Wi-Fi) to view the stream.
・We will do our best to ensure clear, uninterrupted quality in the stream, but please understand that due to the characteristics of distribution, there is a possibility that unexpected suspension or disturbance may occur.
・Stream time may vary slightly.
・The stream URL can be viewed only with the purchased ZAIKO ticket - it cannot be accessible by anyone but the ticket purchaser.
・If you enter the stream during the middle of its broadcast, you can only watch it from that point - you cannot rewind during distribution. However, you play it in entirety during the video archive period.
・Please refresh the stream page 5 minutes before the show starts.
・CVS Payment will end 5 days before the event sales end date.
share
Pop-out