We will have scheduled maintenance on May 17th from 5:00 - 6:00 am JST, during which the website will not be accessible. We apologize for the inconvenience.
BUY NOW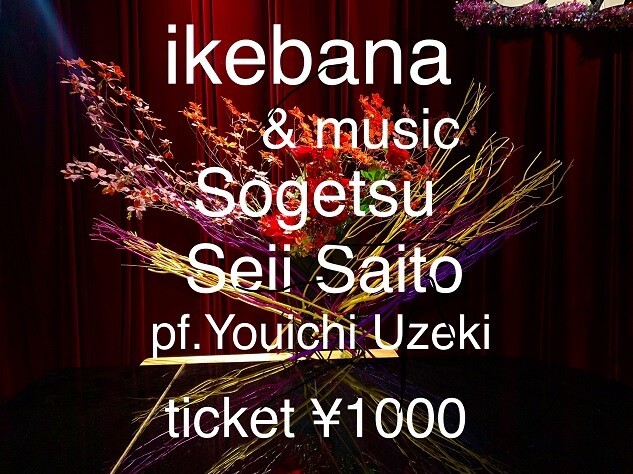 2021 2/23 草月流師範 齊藤青夷 生け花ライブwith Piano 宇関陽一 from NY

IKEBANAとJAZZの出会い ニューヨークからジャズピアニスト宇関陽一氏を迎えてImprovisation!
その瞬間の出会いを楽しむエンターテイメント!
自分の中から湧き出る心のつぶと奏でる音楽のつぶ、植物の生命力!色、ツヤ、香りのつぶ!そのつぶが弾け合い反応する。
GINZの劇場型空間で混ざりあい、新しい何かが生まれます! 模造ではない、生きているものだけが作り出す息吹を映像を通して感じて頂ければとても嬉しいです。

齊藤青夷Instagram→cojimusic で検索して下さい。
https://www.instagram.com/cojimusic/?hl=es

詳しくはGINZホームページをご覧ください。
http://www.sam.hi-ho.ne.jp/ginz/

チケット購入の方はアーカイブご視聴していただけます。
【Important Notes】
・This performance will be performed on the Internet.
・Email will be sent when you purchase a ticket. Please check the e-mail with the browsing instructions.
・Internet communication costs for browsing will be borne by the customer.
・We recommend using stable Internet environment (Wi-Fi) to view the stream.
・We will do our best to ensure clear, uninterrupted quality in the stream, but please understand that due to the characteristics of distribution, there is a possibility that unexpected suspension or disturbance may occur.
・Stream time may vary slightly.
・The stream URL can be viewed only with the purchased ZAIKO ticket - it cannot be accessible by anyone but the ticket purchaser.
・If you enter the stream during the middle of its broadcast, you can only watch it from that point - you cannot rewind during distribution. However, you play it in entirety during the video archive period.
・Please refresh the stream page 5 minutes before the show starts.
・CVS Payment will end 5 days before the event sales end date.
share
Pop-out