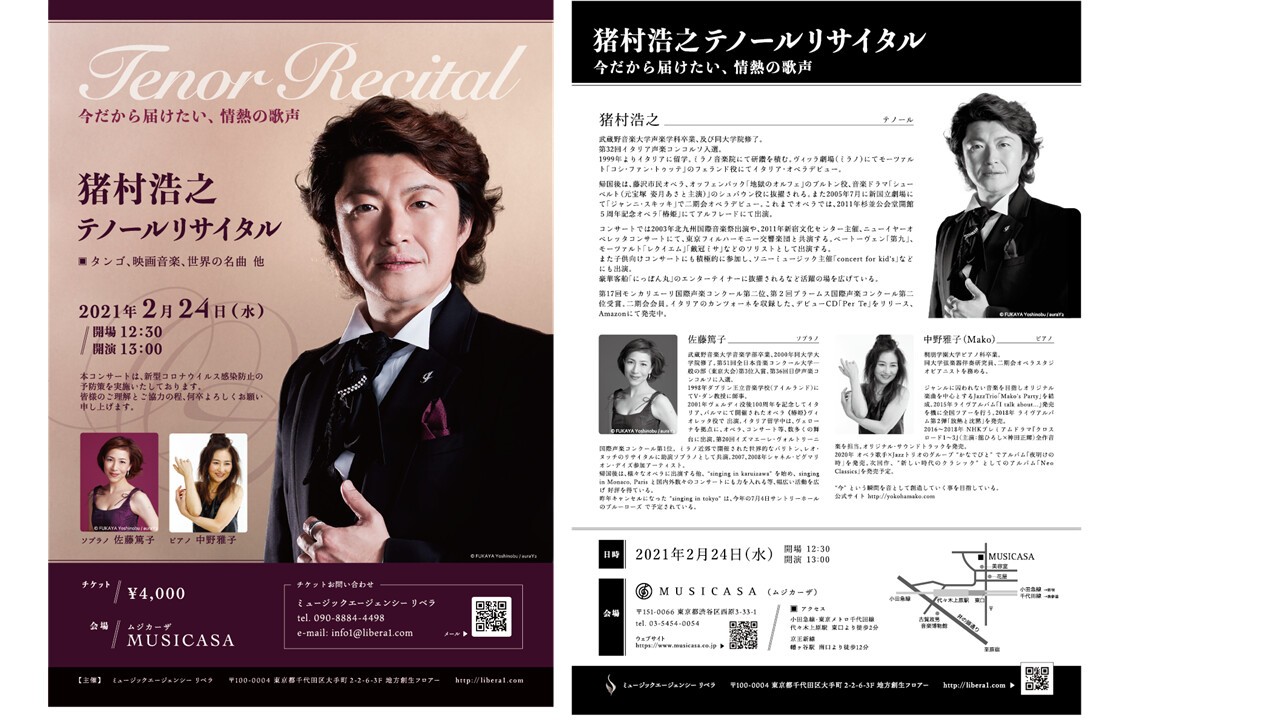 【テノール猪村浩之 リサイタル】
今だからこそ届けたい情熱の歌声

テノール猪村浩之が、タンゴ、映画音楽、世界の名曲を、ソプラノ佐藤篤子、ピアノ中野雅子と共に、大切なファンの皆様へお届けいたします。

当日、会場はコロナウイルス感染予防対策の為、客席数を減らし、お客様をお迎えいたします。
有難いことに、一部の皆様より「配信のご要望」を戴きました。

出演者一同、このご提案により、遠方のファンの皆様ともにコンサートを楽しんでいただける、嬉しい機会だと思っております。

ステージの上から、熱く、私たちに"いま" できることを心を込めて、お届けしたいと、スタッフ一同努めてまいります。
オンラインでは、コメント、投げ銭大いに歓迎しております。是非この機会にザイコ配信にご参加頂きお楽しみください。
- 【Notes】
- * This performance will be performed on the Internet.
- * Email will be sent when you purchase a ticket. Check the e-mail with the browsing instructions.
- * Internet communication costs for browsing will be borne by the customer.
- * Because it is expected that data transmission will increase due to video distribution, it is recommended to use a stable Internet environment (Wi-Fi etc.).
- * We will make the best preparations such as equipment and lines for distribution, but please understand that due to the characteristics of distribution, there is a possibility that unexpected suspension or disturbance may occur.
- * Delivery time may vary slightly.
- * The delivery URL can be viewed only with the purchased ZAIKO account.
- * Even if you share a URL or post to SNS, you can only view it on your ZAIKO account.
- * If you watch it from the middle, it will be live distribution from that point, and you can not rewind and play it during distribution.
- * You can see it any number of times during the archive period. It is possible to rewind or stop and watch the continuation again.
share
Pop-out