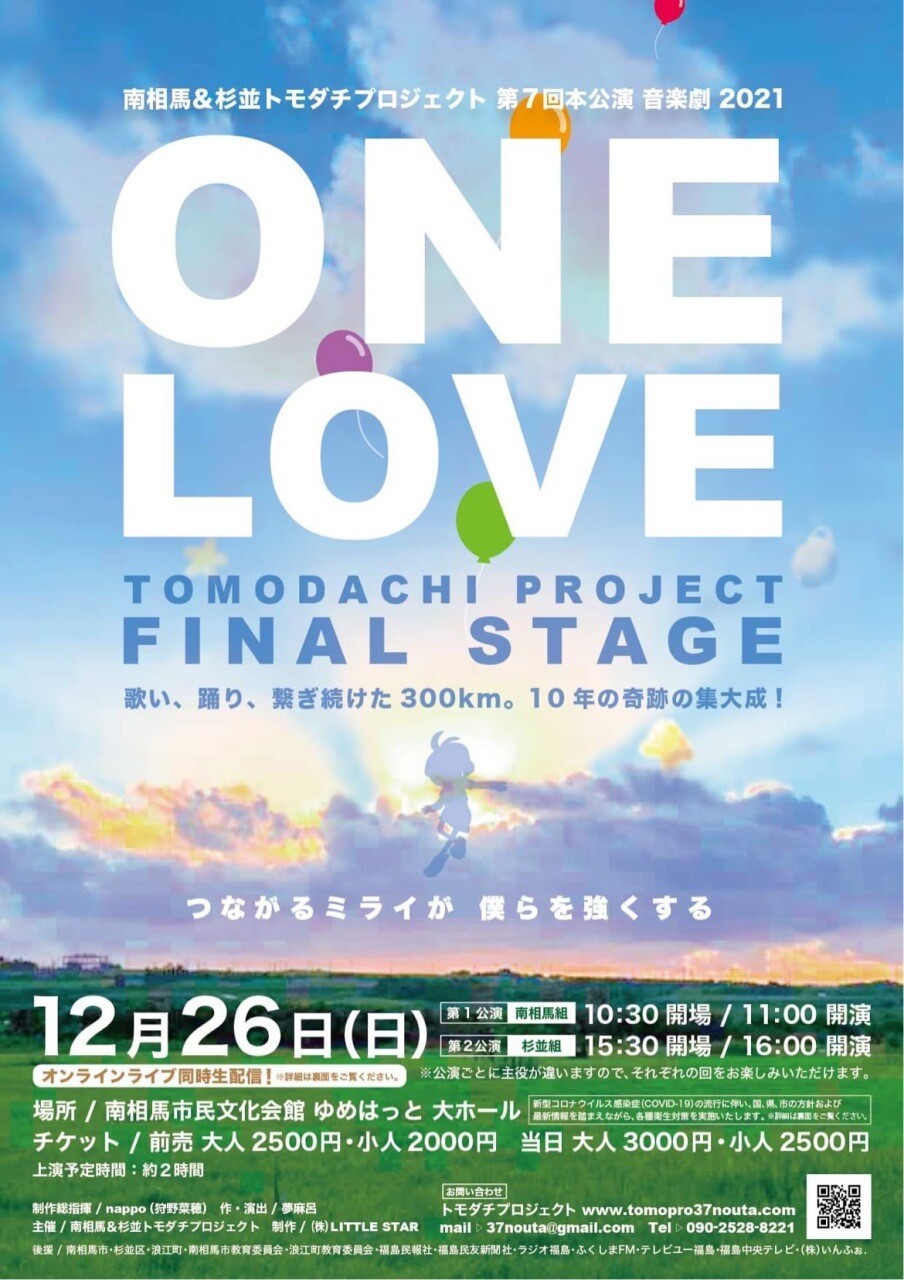 ※開催延期 新公演日:12月26日16:00 開演
南相馬&杉並トモダチプロジェクト 第7回本公演 音楽劇 ONE LOVE〜みんなのうた〜 第2公演

東日本大震災を機に、杉並と南相馬を歌とダンスの交流でつなぎ続けて10年。

「みんなのうた」(https://youtu.be/82JFGjgiURc)1曲から始まった
「ホントのトモダチになりたいんだ。」という想いは
長い年月を重ねてたくさんの仲間との出会いを生み、友情を育み
時には支え、時には励まし、時には競い合いながら大きな輪になってきました。

コロナという新しい敵に出会った僕らはそれでも
この手を離さずに一つの舞台を目指してきました。

震災が産んだ唯一無二の「トモプロ物語」
震災から10年、このコロナ禍の中から、僕たちの放つメッセージ。

これが、トモプロとして最後の本公演。

どうぞ最後まで大きなご声援を、よろしくお願いいたします!

[︎ 概要 ] 
第2公演  2021年 12月 26日(日) 15:45 ライブ配信開始 / 16:00 開演
                   上演予定時間 約2時間
☆杉組バルーン回

[︎ 作演出 ]  夢麻呂
[︎ 音楽]   nappo
[ 主催 ] 南相馬&杉並トモダチプロジェクト
【Important Notes】
・This performance will be performed on the Internet.
・Email will be sent when you purchase a ticket. Please check the e-mail with the browsing instructions.
・Internet communication costs for browsing will be borne by the customer.
・We recommend using stable Internet environment (Wi-Fi) to view the stream.
・We will do our best to ensure clear, uninterrupted quality in the stream, but please understand that due to the characteristics of distribution, there is a possibility that unexpected suspension or disturbance may occur.
・Stream time may vary slightly.
・The stream URL can be viewed only with the purchased ZAIKO ticket - it cannot be accessible by anyone but the ticket purchaser.
・If you enter the stream during the middle of its broadcast, you can only watch it from that point - you cannot rewind during distribution. However, you play it in entirety during the video archive period.
・Please refresh the stream page 5 minutes before the show starts.
・CVS Payment will end 5 days before the event sales end date.
share
Pop-out