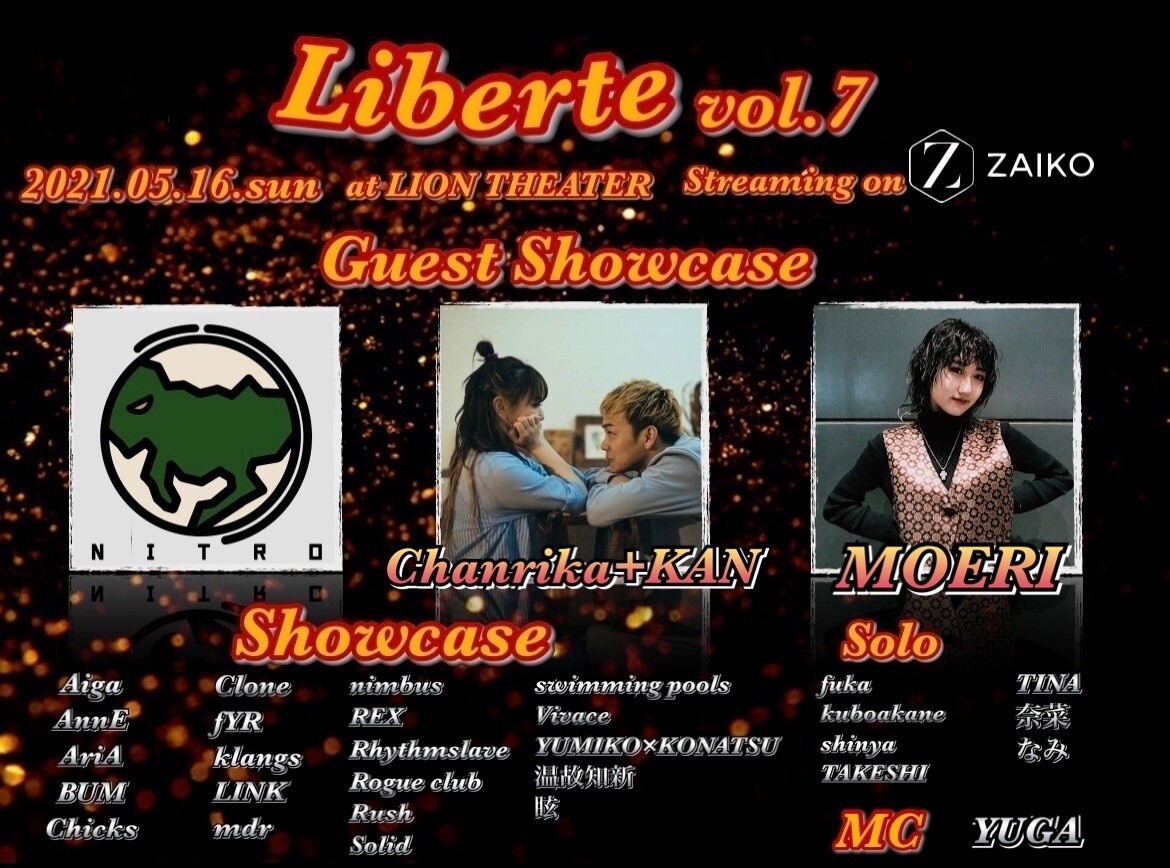 【 Liberte vol.7 】
2021.05.16.sun
at LION THEATER
*
○GUEST SHOWCASE
・Chanrika + KAN
・NITRO
・MOERI
*
○SHOWCASE
・Aiga
・AnnE
・AriA
・BUM
・Chicks
・Clone
・fYR
・klangs
・Link
・LINK
・mdr
・nimbus
・REX
・Rhythmslave
・Rogue club
・Rush
・Solid
・swimming pools
・Vivace
・YUMIKO×KONATSU
・温故知新
・眩
*
○SOLO SHOWCASE
・fuka
・kuboakane
・Shinya
・TAKESHI
・TINA
・奈菜
・なみ
【Important Notes】
・This performance will be performed on the Internet.
・Email will be sent when you purchase a ticket. Please check the e-mail with the browsing instructions.
・Internet communication costs for browsing will be borne by the customer.
・We recommend using stable Internet environment (Wi-Fi) to view the stream.
・We will do our best to ensure clear, uninterrupted quality in the stream, but please understand that due to the characteristics of distribution, there is a possibility that unexpected suspension or disturbance may occur.
・Stream time may vary slightly.
・The stream URL can be viewed only with the purchased ZAIKO ticket - it cannot be accessible by anyone but the ticket purchaser.
・If you enter the stream during the middle of its broadcast, you can only watch it from that point - you cannot rewind during distribution. However, you play it in entirety during the video archive period.
・Please refresh the stream page 5 minutes before the show starts.
・CVS Payment will end 5 days before the event sales end date.
share
Pop-out