We will have scheduled maintenance on May 17th from 5:00 - 6:00 am JST, during which the website will not be accessible. We apologize for the inconvenience.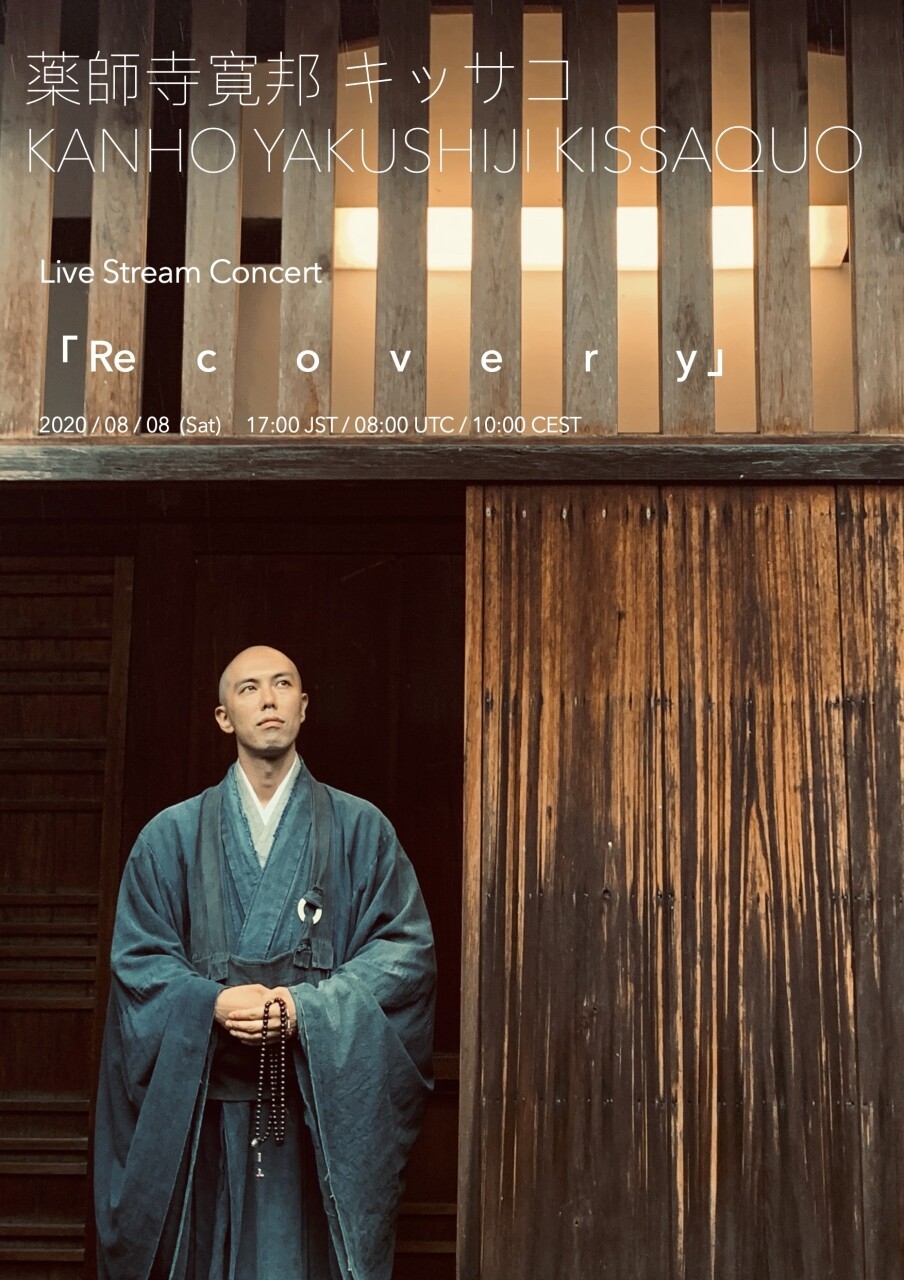 date_range 08.08 (Sat) 17:00 ⇨ 08.11 (Tue) 18:30
ONLINE SHOW
コロナの影響を受けて、薬師寺寛邦キッサコの、待望のライブストリーミングコンサートを8月8日に初開催!MVでも大反響の「大悲呪」ストリングスクヮルテットバージョンを、弦楽四重奏による初めての生演奏でお届けします!他にも般若心経とオリジナルソングなど盛りだくさんの内容。一休寺での癒しの空間で、コロナの終息を願い、共に希望を感じられるひと時を!

Kanho Yakushiji Kissaquo's first live stream concert will take place online on August 8 at Ikkyu-ji temple in Kyoto. The Ikkyu-ji Temple, where he did several well-known music videos including Heart Sutra and Nilakantha Dharani(string quartet version) , is a special place for his first live steam concert. He will perform several well-know Sutras, Mantras and his original songs with strings and other band members. He is looking forward to bringing the inner peace to everyone through the concert.

薬師寺寛邦首次線上直播音樂會確定將於2020年8月8日在京都的一休寺舉辦. 薬師寺寛邦將在音樂會上演出包括般若心經,大悲咒在內的不同版本的經曲以及他自己的原創作品. 音樂會上他還將首次與弦樂組合現場演出. 希望能通過此次的音樂會為因為疫情而無法來到演出現場的人們帶來內心的平靜和希望.

Presented by: MUGEN Creations
主催:株式会社MUGENクリエイションズ
協力 : IROHA records / 酬恩庵一休寺
【Important Notes】
・This performance will be performed on the Internet.
・Email will be sent when you purchase a ticket. Please check the e-mail with the browsing instructions.
・Internet communication costs for browsing will be borne by the customer.
・We recommend using stable Internet environment (Wi-Fi) to view the stream.
・We will do our best to ensure clear, uninterrupted quality in the stream, but please understand that due to the characteristics of distribution, there is a possibility that unexpected suspension or disturbance may occur.
・Stream time may vary slightly.
・The stream URL can be viewed only with the purchased ZAIKO ticket - it cannot be accessible by anyone but the ticket purchaser.
・If you enter the stream during the middle of its broadcast, you can only watch it from that point - you cannot rewind during distribution. However, you play it in entirety during the video archive period.
・Please refresh the stream page 5 minutes before the show starts.
・CVS Payment will end 5 days before the event sales end date.