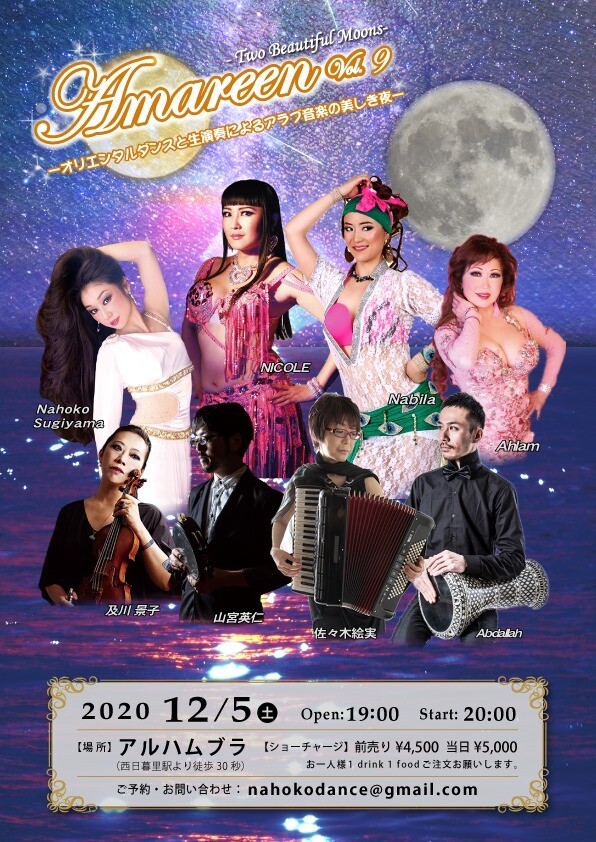 date_range 12.05 (Sat) 20:00 ⇨ 12.08 (Tue) 22:00
ONLINE SHOW
12/05 Amareen vol.9 -オリエンタルダンスと生演奏によるアラブ音楽の美しき夜-

ショー開始:20:00(19:45よりリンクから接続可能です)
(アーカイブは3日間有効ですので、12/5にライブでご視聴頂けなくとも、12/8までお好きな時間に何度でもご覧頂けます)

アラブ界のレジェンドシンガーであり、エジプトを代表するウンム・クルスームの名曲を始め、エジプト民族特有の音楽と踊りもお楽しみ頂けます。

2部構成となっており、合間に15分の休憩を挟みます。

今回は、アマレーン初、歌手の方もお招きします!

プログラム☆

- Lamma rah
- Oyoun el alb
- Alf Layla Wa Layla
- Baladi with Asaya
- music from Shafiqa the Copt
- Zay el 3asal
- Enta Omri
- Lamma Bada
- Fakarouni
(順不同)

西洋の音楽と異なる響きを持つアラブ音楽とアラブ音楽に寄り添うように発展してきたオリエンタルダンスの融合を是非、ご観覧頂けると嬉しいです。

美しいアラビア音楽の響きと踊りの力で、皆さんに素敵なひと時を過ごして頂けますよう全力でパフォーマンスします。

是非ともご鑑賞下さい。

コロナの収束と共に私達が安心で安全に暮らせるように心よりお祈りしています。


出演
◉ダンサー
Nicole
Ahlam
Nabila
Nahoko Sugiyama

◉ミュージシャン
及川景子(Violin )
Abdallah(darbukka)
佐々木絵実(Accordion)
山宮英仁(Riq)

◉歌手
Amin Choghadi

12/05 Amareen vol.9 - a beautiful night with bellydance and Arabic live music-

The show starts 12/05 (Sat) at 20:00 (Japan time) if you would like to see it live.

The Archive is available for 3 days from 12/5 to 12/8 in case when you miss the live show.

Bellydance has been developed as one of the beautiful dance forms since early 20th century based on the social dance among women in the Middle East.

Tonight, 4 dancers will express the beauty of the Arabic music individually on the stage along with their emotions and feelings through the movements.

4 musicians and a singer who have a wide range of the repertoire will take you to the dreaming world.

There will be 2 stages with a short intermission between.

Please enjoy our performance.
【Important Notes】
・This performance will be performed on the Internet.
・Email will be sent when you purchase a ticket. Please check the e-mail with the browsing instructions.
・Internet communication costs for browsing will be borne by the customer.
・We recommend using stable Internet environment (Wi-Fi) to view the stream.
・We will do our best to ensure clear, uninterrupted quality in the stream, but please understand that due to the characteristics of distribution, there is a possibility that unexpected suspension or disturbance may occur.
・Stream time may vary slightly.
・The stream URL can be viewed only with the purchased ZAIKO ticket - it cannot be accessible by anyone but the ticket purchaser.
・If you enter the stream during the middle of its broadcast, you can only watch it from that point - you cannot rewind during distribution. However, you play it in entirety during the video archive period.
・Please refresh the stream page 5 minutes before the show starts.
・CVS Payment will end 5 days before the event sales end date.